26/12/2007
Our girls in the mountains
We had a lot of food and fairy stories in the TV :o)) In Litvínov is very dirty and that´s why I were with my females to the mountains. It´s the place higher about 400 m than Litvínov. There was excellent weather, big sun and white snow!! Uti, Any and Yusha were very happy and run and jumped in the snow. It was very nice to see them. A made some new pictures and got them to the galery.

And in the end a little videoclip ...
24/12/2007
09/12/2007
Our sweet Dany celebrated 12th Birthday (08/12/2007)

Ou sweet boy Dany celerated on Saturday 12th Birthday. He is our lovely a beloved boy. He is big friend of our girls :o))) And our little Yusha is yet 8 months old now (look her new pictures).

Happy Birthday Danny and best wishes!

We did some new pictures. You can see it here :o)))

Last weekend (2/12/2007) we finished with our Any our show sezon in CAC Annaberg - Buchholz. The judge Miroslav Zidar (SL). Any didnt show good, she was affraid the jdge :o( But he liked her and she got exc.2, res. CAC in champion class. If I have right informations Any finished Germany champion (VDH) us first TT from czech breeder and czech owner :o)) Any is my show star!
28/11/2007
Happy birthday (26/11/2007)
Thami and Shalu from our seconde litter celebrated 3th Birthday! We wish all the best to them!
Thami is very nice boy. He is such succesful - he is Champion of 4 countries, Czech Juniorchampion, Club champion, 2 x CACIB. He is father of very nice puppies in Germany. He lives with our friends Buceks in Nepomuk and is Jarka´s big love.
Shalu lives with Anette and Tom Ohman in Dscho Utra kennel (USA). She has first points for american champion. We hope that she will have her first puppies soon.

B´Shalu Lamleh Legs-Smon

Ch. B´Thami Lamleh Legs-Smon
CACIB Praha (18/11/2007)
CACIB Prague was last czech show. The judge was Mgr. Božena Ovesná. We met our "show family" :o)). Kami with Iveta was in intermadiate class exc.1, CAC. Thami With Jarka vin champion class exc. 2, res. CAC (from 4 champions). Big congratulation to Iveta, Miland and Jarka. Yusha was in puppy class VP1. Any placed in champion class exc. 2. Some pictures of M. Adámek and M. Čermák.

JCh. Cambu Lamleh Legs-Smon "Kami"

Ch. B´Thami Lamleh Legs-Smon "Thami"

D´Yusha Lamleh Legs-Smon "Yusha"
12/11/2007
Second snow in Nepomuku (11/11/2007)
Many thanks to Jarka, Jiri, Thami and his friends for gratulations to my birthday, especialy for nice snow pictures. Martin came at the white horse, but we had the snow only little time in Litvínov :o)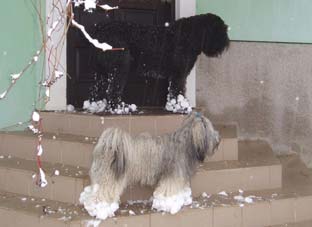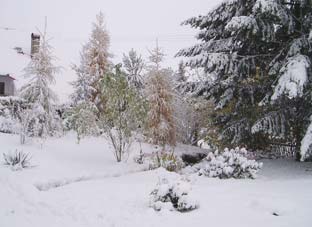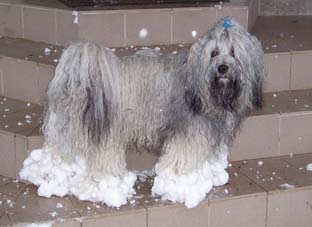 07/11/2007
Mácha´s lake and Sloup v Čechách (10/2007)

Last weeks I was ill and they made some thinks in my flat. We moved to my parent´s. That why I didn´t bring some pictures from my work trip ... I went to Doksy (next to Macha´s lake). Then we went to Staré Splavy and walked next to Macha´s lake. After little walk we moved to Sloup v Čechách. It´s my and my Dany´s favorite place. We visited this places many times. We visited the theatre in wood. My girls were very happy to run and jump in the rocks.
More pictures here
28/10/2007
Visite of Croatia (20-21/10/2007)

I were with Uti and Any in Split in Croatia. I was happy to visite this nice town in the sun again!!! But the weather wasn´t best the wind was very cold. In Saturday we walked in the town. We visited the station of trajects (I went from this place to Hvar many years ago :o))
In Sunday we visited CACIB show with Any. She showed very well and was exc. 1, CAC, CACIB, BOB.
Any got last CACIB from 3th country for INTERCHAMPION in this show!!!
And some pictures from your trip here
04/10/2007
Nice weekend (28-30/09/2007)
Last weekend we were in speciál show of slovak Club of tibetan breed in Ružindol. The judge was Miroslav Redlicki (PL). Yusha was in puppy class VP, Any in champion class exc.1, CAC and finished Slovak grand champion.
Aftre show we visited our friends in the kennel Schambala in Prostějov. Their female Sanna waits puppies :o)))
more pictures here
photo: Milan Adámek
21/09/2007
16/09/2007
CACIB and CAC Leipzig (8-9/9/2007)
Last weekend we had show weekend in Leipzig. In Saturday was CACIB show and in Sunday CAC show. SI showe our Any (Ch. A´Naya Lamleh Legs-Smon) in champion class. The judges: Pamela Runderkamp (NL) and Karin Acker (D). Any was exc.1, Anw. Dt. Ch. VDH and in Sunday CAC (KTR) and Best female.

In Saturday we visited our friends Bianka a Mario. They are such kind peoples and have nice tibies. We welcomed with their dogs and after kaffe we visited Halle and had a dinner. Yusha played with their new members of family Devi From Finland. And they we talked and talked :o))

We had a lot of activities and that why we forgit to celebrate Uti´s 7th Birthday!!!! She is all time out little and very happy puppy and she will be it forewer!!!!

Yusha is 5 months old, she is very happy girl. Last pictures in 4 months from atelier here. New Yusha´s pictures soon.
20/08/2007
CACIB Bratislava (18-19/8/2007)

Last weekend we visited two CACIB Bratislava (SK). Yusha was in her firt shows in the puppy class. She was very very good in the rign and the judges Mr Otakar Vondrouš (CZ) and Mr Štefan Šinko (SLO)l iked her and she got very promissing. I was very surpriced and pleased that she was such perfect.
Any was very sucessfull too. She was in champion clas 2xexc. 1, CAC and in Saturday CACIB and got the qualifikation for Crufts.
When we went home, we visited our friend Michaela and made some news pictures in her studio. The pictures will come soon.

D´Yusha Lamleh Legs-Smon (4 months)

A´Naya Lamleh Legs-Smon "Any" (4 years)
My mother Kuba celebrated 6/8/2007 his 16th birthday. He is very happy old man. He loves my Dany who is his best friend. Our little Yusha loves him very much, she kisses him all days and they sleep in the same palce :o) We wish to Kuba a lot of healthy!
25/07/2007
CAC Mladá Boleslav (22/07/2007)

Kamíka (JCh. Cambu Lamleh Legs-Smon) showed first time in intermediate class. He was very good boy, she schowes very well withe her owner Iveta. They got first exc.1, CAC.

Kami has the title Czech juniorchampion. Many congratulations to Kami, Iveta and Milan Čermák!

Yusha is our little sun. She is very temperament, but she is more quiet like Any and Shalu was :o)) .Today we met with little female of Chinese crested dog Lucy. I took some pictures. Some Yusha´s pictures Cand videotape in 3 months you can see here.
15/07/2007
Last two weeks we had a holiday with our dogs. We traveled, visited two shows and relaxed. A lot of pictures, but text in czech only :o).

Our last puppy Yusha stays with us still. May be she will be in our kennel or will go to the kennel in Germany :o)

Last Yusha´s pictures in 11-12 weeks here
22/06/2007
Klub winner show Soběslav (16/6/2007)
We visited the club winner show of TTC CR in Sobeslav, the judge: Mrs. Jarmila Podzemská. Our Ch- Antao Smon-Lam Dany won veteran class exc.1, Best veteran. Our breed B´Thami Lamleh Legs-Smon Thami was in champion class exc. 2, res. CAC and the judge liked him very much. Cambu Lamleh Legs-Smon Kami was in young class exc.1, CAJC, Club Junior Winner.

Ch. Antao Smon-Lam
Ch. B´Thami Lamleh Legs-Smon
Cambu Lamleh Legs-Smon
Any celebrated 4th Birthday (9/6/2007)

Our Ch. A´Naya Lamleh Legs-Smon "Any" is very happy girl. She has big temperament :o)) She got teddy bear. She loves teddy bears so much!!!

Any´s pictures



Yusha is big and happy puppy-girl, she is 10 weeks old. Some older pictures here.
03/06/2007
Nepomuk + Weiden (26/5/2007)
We went to Nepomuk on Friday 25th May. We had nice evening with our frined Jarka and Jirka.

Buceks have a lot of animals - 5 dogs, cat, tom-cat, cockatiel, guinea pig and hamster. But we thought that one animal extra was o.k. And this goat won´t to eat the garden :o))

On Sunday morning we had breakfest and Bucek´s daugther Anna said that they had any new members of family ... 7 little hamsters :o)))

Our new friend ... cha, cha .... Our the bigest Artuš saw what is it???? :o)))
On Saturgy before lunch we went to Weiden to visite Thami´s puppies at Karin´s. We couldn´t find the right journey but we found it finaly :o))) Puppies was a little tired after lunch. We played with them some time and then we told and told and ..... about puppies, dogs etc. They was 7 weeks old and they are such lovely and typical nice tibies!!

Any did the big scandal ... she ate puppies food :o))) But Karin had iundestanding, she had dogs too. We saw their lhasa Chimmo and young man Dondup (Oti´s son von der Lobenbreite). Some new pictures of puppies here
And some new pictures of our little Yusha here

Thami, Any, Chimmo, Heidi, Dondup (our Yusha´s half brother :o)
21/05/2007
CACIB Litoměřice (20/05/2007)

Last weekend our little Yusha had a visit of our friends Hana and Jitka. She was very happy to see new people :o)

On Sunday we went with Jitka and her female Byema to CACIB Litoměřice. Any was in champion class exc.1, CAC. The judge Mgr. Božena Ovesná (CZ) liked our Any very much. She said that from the long time she sees very nice female in good size and body and with excellent movement. It´s our Any :o)))

After show we went back to our garden. All our dogs with little Yusha sunbathed there :o))) Our puppy is very lovely. She is 5 weeks old. Some new pictures you can see here.

Thamí´s first puppies in Germany are 6 weeks old. They grow very well. News pictures here

In the ring ....
I won nice medal ....
... the winning is such difficult!!!
Any and me :o)
15/05/2007
The trip of TT
7-8/5/2007, Petrov - Chlomek
We met our friends near to Prague, in Petrov - Chlomek. There lives family Stejskal with their female A´chitra Kipu Khyim. We had nice time. The pictures and videoclips you can find here
Ou little Yusha is very happy puppy. She is 1 month old yet. New pictures and clip
06/05/2007
... our children again!

On Friday I looked forward to visite Kami with his owners on Saturday. I began tidy up and .... the house next to house of my paretns began to burn. My parents with dogs were in the garden in the settlement of gardens. They came back when firemans worked yet. My mother had to stay next house and I took my father with dogs to Kora´s owner (Co-ra Lamleh Legs-Smon). My father is ill, I live in 2nd floor and it´s a problem. My parents passed night with their Kuba at our friends. Many thanks for such good people!!! The firemans worked to Saturday morning. Then I took them back home, bought breakfest and came home tided up :o)))
On Saturday we visited Kora with Kami and Iveta and Milan. It was very agreable!!!Some pictures here
And what about our Yusha? See here!
30/04/2007
A´Naya
B´Thami
Cambu
D´Yusha
Weekend with Uti´s children!
In Saturday morning our Uti with little Yusha mowed to my parents :o)) I with Any were to the yourney. In Friday Yusha opened eyes. Some new pictures in 18 days you can see here
We spent nice time in Nepomuk. We wisited Buceks. Any and Thami there are on the pictures in Jarka´s very very nice garden and flowers.
In Sunday we were together to CACIB Prague (judge Miroslaw Redlicki, PL). There we met Kami (Cambu) with Iveta and Milan. Kami was excellent prepared for the show and their tranink was such good and Kami won exc.1, CAJC. Any was in champion class exc.1, CAC, res. CACIB.
22/04/2007
Congratulation!!!
Thami (Ch. B´Thami Lamleh Legs-Smon) showed in CACIB České Budějovicé (judge: Jarmila Podzemská, CR) and got exc. 2, res. CAC, res. CACIB in Champion Class. He finished a title Czech champion and got CACIB, because the male with CACIB is Interchampion yet. Thami is Chempion of three copuntries and Club champion of TTC.
Congratulations to Jarka and Thami, many kisses to Thami. And to Jarka a lot of thanks fot Thami´s presentation!
Tham´s first puppies in Germany are 2 weeks old. They open eyes and they are so lovely. New pictures you can see here.
19/04/2007
14/04/2007
Our little Yusha is 2 days old. It´s such nice to see how she growets. I did her short
videoclip
.
We bring videoclip of our Any from our visite last weekend in Louny. I did a little video of friends Jitka and Byemka in the agility training. You can see it in their website. Thami´s puppies with Heidi are 1 week old now.
13/04/2007
Uti is mom!

Our little black girl was born esterday evening (at 18,35) and was 200 g. She is so sweet!! Mother Uti and little girl are o.k. I´m happy tha all was good and we will have nice time with puppy.
With my friend Bára we chose the name for our little ... she will have name D´ Yusha.
Next info and pictures
11/04/2007
Any in the training of agility

We visited our friend Jitka with Byema and Benny in the training of agility. Any was first time in agility. She was very clever and she liked to jump. She didn´t like the tunel a little. n
Finaly Jitka did some nice pictures if Any here
08/04/2007
Uti is grandmother!!
No, it´s not mistake :o))) Uti´s son Thami (Ch. B´Thami Lamleh Legs-Smon) is father!!
Thami´s first puppies were born in the kennel of Karin & Christiny Lemberger. They have nice littre of 2 males and 3 females. Mother of puppies is nice female Heidi von Herzberg. Heidi has good pedigree of nice tibetans, some of them from american lamleh line. I think puppies will be nice type of their parents. I´m so courious when the puppies will develop. I wish them all the best and to family Lemberger to have nice time with puppies and all their dogs. More info
01/04/2007
April is comming!!!!
We had a nice time to relax in my mother´s garden. We tided up a little. Then I groomed my female and did some new pictures.

U-ti waits her puppies. She is very happy girl. She eats like hors, play and wachts :o)))

Some pictures from the garden here
27/03/2007
CACIB Berlin (25/03/2007)
Last weekend we took a part in CACIB Berlin. I went to Berlin with Any only. Any was entered in champion class. We met our friend Daniela with her mother and females. I was nice to meet them all. I will be happy to see them again.
Any was succesfull in champion class under the judge Mr. Walter Holtorf (D). The judge was very strictly. Any won her class and got exc. 1, CAC - VDH, CAC. Daniela with her female Tansangri Lharima Shan Changbai won in open class and got CACIB. Many congratulations! We were res. CACIB :o))
Foto by fam. Liedtke
17/03/2007
Trip to the castle Helfenburk (11/03/2007)

Last weekend we visited an old castle Helfenburk next to little town ښtěk with our friend from Prague. They have the girl of lhasa apso Mušle..

Some nice pictures from the romantic place you can se here. Many thank for Šárka, Veronika and Michaela to have nice time with them!
31/01/2007
11/2/2007 Kami (Cambu Lamleh Legs-Smon) with his owner Iveta took a part in the CACIB Brno. They showed in young class in first time. Kami was exc. 2 (from three other young male). Iveta with Kami are the beginer in the ring and they were so good. Iveta and Milan, many congratulations and thanks for good care of Kami!!!! I was with my females the same weekend at Neums in Germany to visite Uti´s new husband. I will write more soon :o)) Criss your finger in this time!

15/2/2007 Thami (B´Thami Lamleh Legs-Smon) was in eyes examination and is o.k. Many thanks to his owner Jarka and Jiri!
17/2/2007 Iveta, Milan and Kami came to visite us. Kami was a little said because his mother Uti and half sister Any were closed (they finished their seasons :o)). It will be better next time!!! May be the weather will be better and we will visite Kami´s sister Kora together!!! Picture from Kami´s visite ... on the left.

Cambu Lamleh Legs-Smon (10 months)

Ch. B´Thami Lamleh Legs-Smon
31/01/2007
CACIB Trenčín (27/01/2007)

We had very nice and agreable weekend with our friends. We went to Moravia in Friday and pasted night in Uherske Hradiště. In the morning there were a lot of snow. The way to Trenčín was very difficult.
But we were very successful. The jugde was polish judge Aleksandra Swisulska. And the results of our dogs are such good!!! Thami exc. 1, CAC and Uti exc. 2, res. CAC. Both finished the conditions for Slovak champion of beauty! Many congratulation to Jarka and Thami!!!!
21/01/2007
Weekend 13-14/01/2007

We spent the second weekend in January in the visite and show. On Saturday we did some new pictures of our U-ti, Any and Thami at my friend´s Michela Piňosová. Then we visited Barbora and Martin in Prostějov (kennel Schambala). We are meeting Simona Jemelková (kennel Sengge). We told and told and told.... and then it was time to go sleep.

New pictures:

In Sunday we went to CAC show in Olomouc. The judge was Ing. Leoš Jančík (CZ). Thami was V2, res. CAC.

I had a another opinion and was a little said. But I´m so proud that Thami is excellent boy. He liked not to me and her owner only, but to another breeders in another countries. Jatka, thank you very much for you care about Thami!!!!! And you can see our Thami in the short videoclip from Olomouc.
01/01/2007

Welcome in the new year!!
We were one day before Silvestre to visite your little girl Kora (Co-ra Lamleh Legs-Smon). She is so lovely girl. She is so happy and does the pleasure to her owners (our family friends).
And the it was time to wait new year!!!

30/12/2006
We got great new from Anette Ohman!

Uti´s Grandfather "Elliot" Ch Malishar's Dad-Pa Rin-Chen-Po (Elliot is Rang gi's father) had his 19th birthday (24th Decembre 2006). He lives in Canada with John and Joy George.

Happy Birthday Elliot!!!!!
28/12/2006

Visiting day!
We had a visit od Kamík (Cambu Lamleh Legs-Smon) with his owner Iveta and Milan. It was very very agreable to meet pur "family". Any and Kami played and Uti slept :o))) Kami is the big boy still and we are so happy to see him.
25/12/2006
Merry Christmas!!!

(24/12/2006)

Ha had happy Christmas time!!! Our dogs like the Christmas and happy time with all family! Any sends the message .... we had so good cookies and Christmas dinner :o)))

Some Christmas pictures

here
Tibetan Terrier Gifts

Video from the shows 2005 and 2006 in DVDs

---

Archive

2004 - 2005
2006